Welcome to East Coast Fishing Charters!

Fishing Charters in the Sebastian Inlet, Vero Beach and Melbourne areas.
Fishing Reports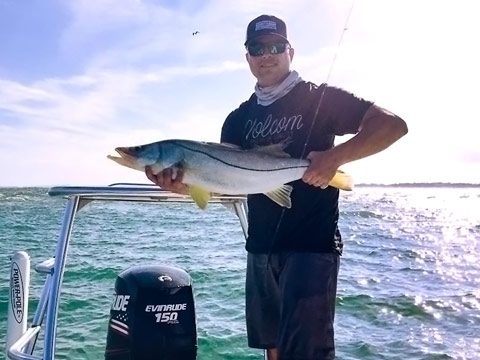 With over twenty years of experience, Captain Don knows the Vero Beach, Sebastian Inlet, and Melbourne area waters in and out. He grew up fishing these waters, and will be able to take you to some prime REEL estate! Whether you're new to fishing or an experienced and ardent angler, Captain Don will make this fishing trip truly memorable, he has an extensive knowledge of the lagoon, and knows plenty of tips and tricks to find the fish and have an exciting, memorable day on the water.
Book a trip with EC Fishing Charters and allow Captain Don to guide you along an exciting saltwater experience on the alluring Indian River Lagoon. Venture through the waters of Sebastian, Vero Beach, and Melbourne. The east coast of central Florida is home to an incredibly diverse inshore saltwater environment visited by top anglers. You can hunt down giant Tarpon or Snook around the Sebastian Inlet. You can sight fish the flats and shallows of Vero Beach, and surrounding areas. The Indian River Lagoon is the area where not one but two state records were set for Spotted Seatrout and Redfish, and there's plenty more for you to hook!! Let Captain Don provide you with the experience of a life-time. We promise to provide our guests with stellar service. Call now to book your fishing trip today!
A great fishing boat charter is to have a captain who knows the right water temperature, right tide, and which bait to use. With over twenty years' experience fishing Vero Beach, and Sebastian Inlet, Captain Don has it dialed in. So, if you're looking for an exceptionally memorable, fun, and exciting fishing experience, Captain Don's charter is the charter for you!
Did you know that the Indian River Lagoon is the Most diverse estuary in North America, with over 700 species of fish. The Indian River Lagoon actually groups together three lagoons. There are dozens of smaller rivers and streams that flow into the Lagoon and due to varying salt levels and the fact that the northern section of the lagoon is located in a temperate climatic zone while the southern section is subtropical, this allows for the highest biodiversity of ANY lagoon ecosystem.
This prime fishing area is centrally located in Florida so even if you're not necessarily on the coast, it's a short drive to your very own fishing adventure. Approximately an hour is all that stands in your way of an amazing experience. That's right, the beautiful Indian River Lagoon is about an hour or less drive from top destinations in central Florida including Orlando and Walt Disney World and is minutes away from the Kennedy Space Center. Vacationing to central Florida? It is a must to come fish the Indian River Lagoon, for the best saltwater experience of your life. Starting from Ponce de Leon Inlet in Volusia County to Jupiter Inlet in Palm Beach County, Florida, the Indian River Lagoon stretches 156 miles, moving through areas like Vero Beach, Sebastian and Melbourne. Visiting the Indian River Lagoon is an experience that will last a lifetime.