Saturday, August 26, 2023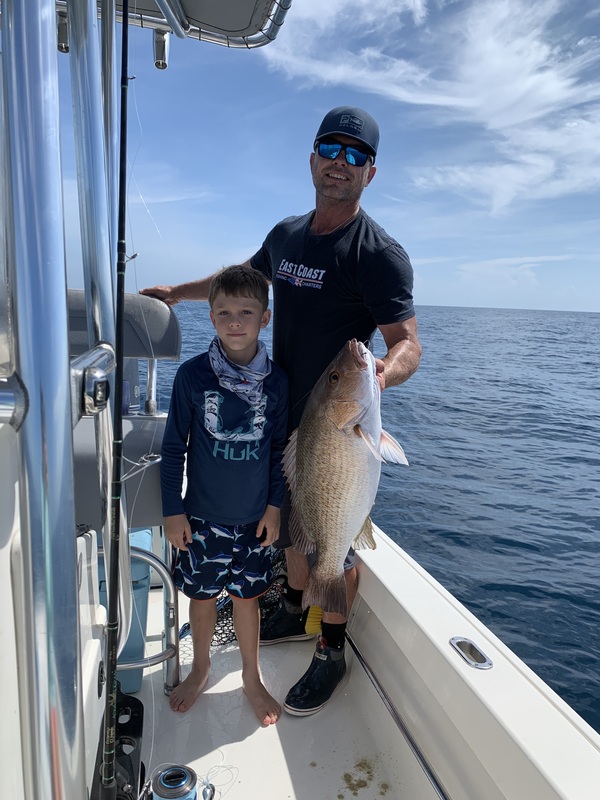 Click For Full Size
We have had an exceptional year of fishing this summer, both inshore and offshore! Early in the summer, I ran most of my trips in the Indian River Lagoon from Melbourne Beach to the Sebastian area. We had much success, catching big snook, trout, and redfish. The speckled sea trout fishing was unbelievable! In most of our trips, we caught double digits on the trout bite not to mention all the snook and redfish we caught. As far as the trout size, most fish ranged from 19 to 26 inches, with a few that were 28 and 29. I have noticed a lot more reds in the Indian River this year due to the restrictions placed last year. As of now, there is still no bag limit on redfish. The redfish season has closed indefinitely but guests still enjoy catching them. The river reds that we have caught this year have ranged anywhere from 18 to 36 inches.

Moving into July, I did run some snook trips around the Sebastian Inlet. This is the time all the big females show up to spawn. The snook fishing this time of year remained great as usual. I did not run as many trips fishing the Sebastian Inlet for big snook as I usually do because a lot of my guests wanted to catch fish they could eat. Don't get me wrong, snook are great eating, but they are not in season until September 1.

We ran a lot of trips near-shore and a few offshore this year. The near-shore fishing was very steady. We targeted king fish, and a good variety of snapper and tarpon. Even though tarpon is not on the menu, it is hard to resist when they are schooled up on the beach. As far as offshore, we hammered the mangrove snapper on multiple trips, and they were as big as up to 30 inches believe it or not. As they say, the proof is in the pictures! Here is a photo of my oldest son and myself with a 29inch mangrove! It was a great time on the water that day fishing with my beautiful wife, my two boys, as well as my brother, and a very good friend of the family!

With that, this concludes my summer 2023 fishing report. I want to thank everybody for their support and to all who booked a trip with East Coast Fishing Charters this year!