Sunday, June 26, 2022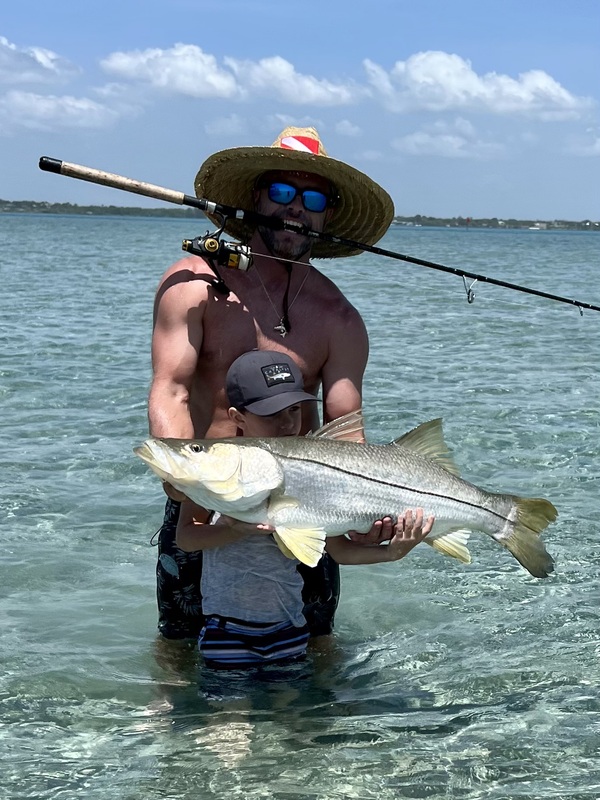 Click For Full Size
One thing about the summer fishing near the central east coast of Florida is, there is just a lot of life. The snook and big jacks are stacked around all the inlets. The tarpon, sharks, and kings are all up and down the beach from Melbourne Beach to south of Sebastian Inlet. There are a lot of calm days on the water this time of year, so we can fish the backwaters, but also get out and run the beach for tarpon, king, snook, etc.
Some of my guests just are looking to battle a big fish! This is the best time of year to catch a 100+ pound fish. For starters, tarpon fishing is always cool. Hooking into these giant acrobatic fish can be very exciting! With their big jumps, and the fact that they never give up, makes them one of the toughest fish to land! Another big fish we can target is the Goliath grouper! Most people are amazed when they see the size of these giants! Obviously, we cannot keep either of these fish, but it makes for a pretty cool fishing experience.
The bait schools have been super thick up and down the beach. Along the bait are king fish, with a few cobia mixed in. On the calm days, this is a great way to spend the day fishing. Catching big fish near shore and taking something home to grill is a win-win.
This concludes the 2022 summer fishing report! Thanks to everybody that booked a trip to fish with me at East Coast fishing charters!