Sunday, July 31, 2016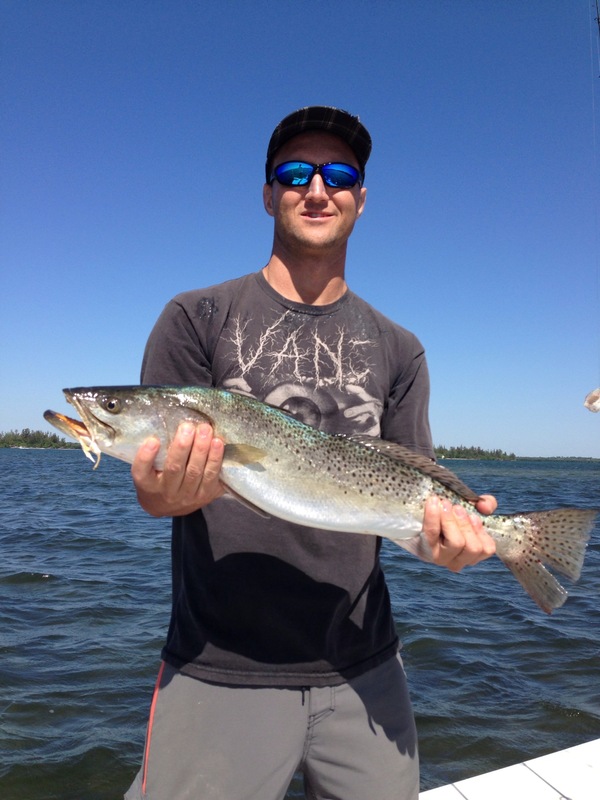 Click For Full Size
July is here and the fishing is phenomenal! Starting in Sebastian FL, the snook bite is as good as it gets. Early in the morning, we have been pitching live shrimp around docks and mangroves, and then later, moving into the inlet drifting live mullet! The docks and the inlet both have been putting up big numbers. If you like non-stop action throwing artificial bait, the bonita and Spanish mackerel are thick and not far off the beaches of the Sebastian Inlet. We have had no problem finding these fish. They have been under birds and busting baitfish right on the water surface.

The trout and redfish bite on the flats in Vero Beach have been great in the morning. Last week Bill and his buddy Walter booked a charter with me and they wanted to fish for trout, so we went down to Vero and loaded up on trout and redfish! Most of the trout were between 5 to 8 lbs and we caught our limit on reds. Below is a picture of Bill Farmer with a nice trout that he let me take, the funny thing is he caught some that were definitely bigger, but he said there was no time for photos, only fishing, hahahaha! Bill, you are welcome anytime on my boat!

This month a couple of my charters wanted to catch permit and tarpon so I took them to Fort Pierce Inlet and south of the inlet off of the beaches of the Treasure Coast. We have had a lot of luck using half dollar size crab and large handpicked shrimp for the permit and live mullet for the tarpon. Also, in the Treasure Coast area there's been a pretty good trout bite. The fish we have caught are feeding early in the morning on live and cut mullet on the outgoing tide.

That includes the July fishing report by Captain Donald Andrezze, July 31, 2016.